What is a Sclerotherapy?
During a sclerotherapy procedure, substances are injected into the selected veins while the surrounding tissue is wrapped in compression bandages for several days, causing the vein walls to stick together.
Patients who undergo sclerotherapy are advised to maintain walking regimes that force the blood to flow into other veins, preventing the development of blood clots. This treatment has been used since the 1920's, and has proven to be successful in the reduction of varicose and spider veins.
---
The Ideal Candidate
Prior to a sclerotherapy procedure, patients will undergo an initial consultation in order to determine their candidacy. Sclerotherapy is not recommended for patients who are pregnant or have a history of blood clots.
---
How Much Does

Sclerotherapy
Cost?
Before any procedure can be scheduled a consultation must take place, here the surgeon will assess the patients needs and suggest the best procedure to achieve the required results.
Consultation Fee: R1000 
(Estimated Price: R4000/ leg)
---
Sclerotherapy

Before and After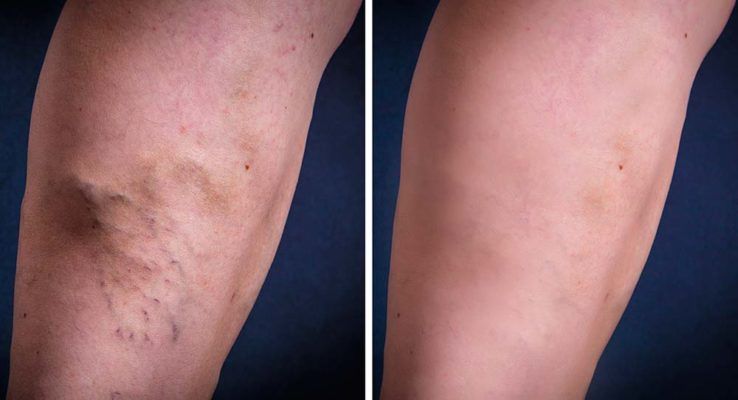 ---
Sclerotherapy 
Recovery 
Sclerotherapy is a safe procedure with very few complications if any, which generally subside after a few days.
---
Complications | Risks | Side Effects | Scars 
If carried out by a medical professional, the side effects from sclerotherapy are minimal and often subside after a few days.
Temporary Side Effects
It's common to have some mild side effects for a few hours after having a sclerotherapy procedure. These include:
Bruising

Raised red areas

Small skin sores

Darkened skin in the form of lines or spots

Multiple tiny red blood vessels
Other Possible Side Effects
More serious side effects are rare but may require treatment. These include:
Inflammation.

This is usually mild but may cause swelling, warmth and discomfort around the injection site.

Blood clot.

A lump of clotted blood may form in a treated vein that may require drainage.

Pulmonary embolism

An emergency situation where the clot travels from your leg to your lungs and blocks a vital artery. Seek immediate medical care if you experience difficulty breathing, chest pain or dizziness, or you cough up blood.

Air bubbles.

Tiny air bubbles may rise in your bloodstream. Symptoms are temporary and may include visual disturbances, headache, fainting and nausea.

Allergic reaction.

It's possible that you may have an allergic reaction to the solution used for treatment, but this is uncommon.
These risks will be fully disclosed and explained by the surgeon, if at any point post surgery a patient suffers from any serious side effects – please consult your surgeon immediately.