What is a Microdermabrasion?
This non-invasive procedure is extremely popular in skin care clinics and is known for its many benefits, including leaving skin looking and feeling rejuvenated.  
During a microdermabrasion treatment, the clinical technician directs a stream of aluminum oxide crystals into the skin. These crystals exfoliate the skin, while the mild suction created by the microdermabrasion system removes the dead skin cells and crystals.
Microdermabrasion is an extremely popular procedure because of its non-invasive nature. It is a pain-free procedure that benefits patients with fine lines, pigmentation, clogged pores and acne scarring.
---
The Ideal Candidate
Because of its non-invasive nature, a microdermabrasion procedure is suited to anyone with fine facial lines or wrinkles, age spots, sun damage, uneven pigmentation, clogged pores, skin texture problems, or minor scars.
---
How Much Does 
Microdermabrasion 
Cost?
Before any procedure can be scheduled a consultation must take place, here the clinical technician will assess the patients needs and suggest the best procedure to achieve the required results
Consultation Fee: R1000
---
Microdermabrasion
Before and After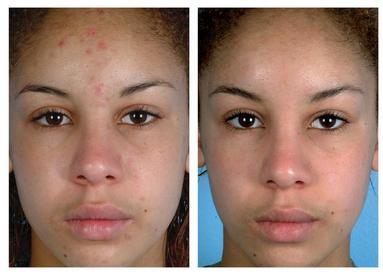 ---
Microdermabrasion
Recovery 
Microdermabrasion is a safe procedure with very few complications if any, which generally subside after a few days.
---
Complications | Risks | Side Effects | Scars 
If carried out by a medical professional, the side effects from microdermabrasion are minimal and often subside after a few days.
Temporary Side Effects
It's common to have some mild side effects for a few hours after having a microdermabrasion procedure. These include:
Skin tightness

Redness

Minor bruising

Skin sensitivity

Post-inflammatory hyperpigmentation

Small skin abrasions

Spots of bleeding

Eye-skin bruising
These risks will be fully disclosed and explained by the surgeon, if at any point post surgery a patient suffers from any serious side effects – please consult your surgeon immediately.