What is Chin Augmentation

?
In most cases, a chin augmentation involves the placement of an implant into the chin area in order to improve the appearance of a recessed chin.
How Does a Chin Augmentation Surgery Work?  
As mentioned above, a chin augmentation typically involves the placement of an implant into the chin area. In most cases, a small incision is made either inside the patient's mouth or underneath the chin. The implant is then inserted through the incision and positioned by the surgeon.
---
The Ideal Candidate
During your initial consultation, the surgeon will decide whether or not you are a good candidate. The qualities for the ideal candidate include:
General good health

Skin that still maintains elasticity

Realistic expectations
---
How Much Does

a Chin Augmentation Cost?
Before any surgery can be scheduled a consultation must take place, here the surgeon will assess the patients' needs and suggest the best procedure to achieve the required results.
Consultation Fee: R1000
(Estimated Price: email us)
---
Chin Augmentation Surgery Before & After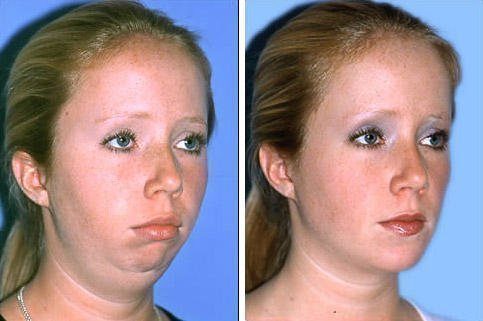 ---
Chin Augmentation Recovery
The recovery time after a chin augmentation is generally very quick depending on the procedure chosen and the size of the incision made.
---
Complications | Risks | Side Effects | Scars 
If carried out by a medical professional, the side effects from a chin augmentation should be minimal and patients are likely to see results immediately.
Temporary Side Effects
It is common to experience side effects after a chin augmentation, these include:
Pain

Swelling

Bruising

Scarring
Other Possible Side Effects
In some cases, the side effects are more severe. These include:
Infection

Nerve damage

Tissue death

Skin discolouration
These risks will be fully disclosed and explained by the surgeon, if at any point post surgery a patient suffers from any serious side effects – please consult your surgeon immediately.